Continuing professional development
Professional development opportunities
Our support for clinicians working and supervising students in rural and remote health within our footprint includes:
providing learning and teaching resources to support clinicians supervising students on placement
providing opportunities to participate in educational research projects
supporting clinicians to attend and present at conferences
connecting health professionals with opportunities to develop cultural awareness
providing opportunities for interprofessional learning and collaboration between health professionals
delivery of professional development opportunities to clinicians in rural areas.
We also offer free, one-hour online professional development workshops throughout the year that are open to all clinicians.
Professional development and events calendar
Open learning modules
We have a number of online modules available to assist you in developing your skills as a clinical supervisor. These modules are free to access, with a certificate of completion also available on request. The modules can be completed either as a stand-alone learning resource or as a suite to comprise the Rural Clinical Placements – How to Grow Your Own course.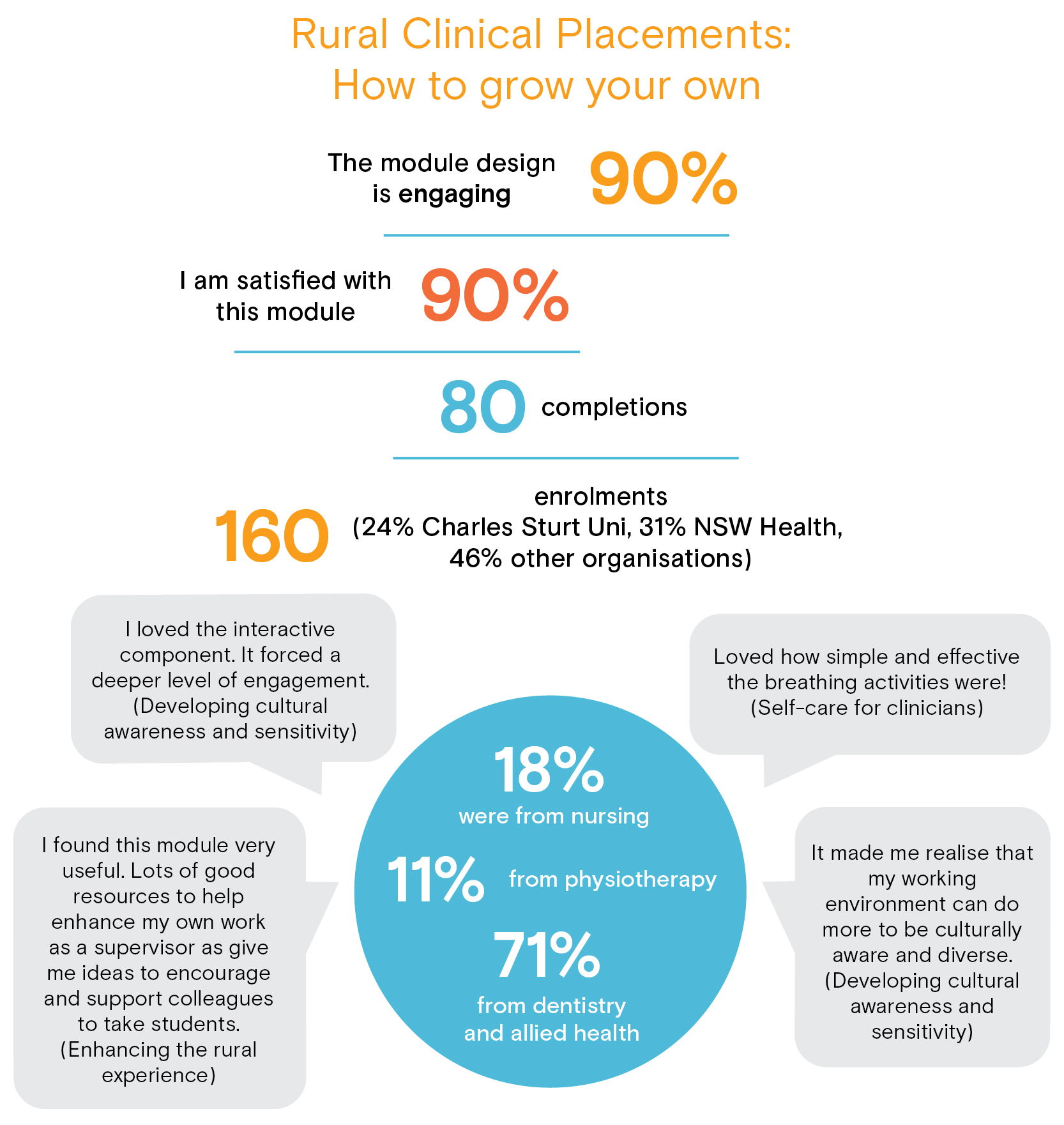 Rural Clinical Placements – How to Grow Your Own
In this course, you will learn how to get the most out of your students to help promote a rural intention to practice. Together we can help grow the rural health workforce through great student placement experiences!
The following topics comprise the modules:
Supervision practices – different models of clinical supervision, how to manage and assess students on placement.
Enhancing the rural experience – how to leverage those unique components of rural practice to ensure students appreciate the opportunities as well as the challenges.
Creating a best practice clinical learning environment – What does a high-quality clinical learning environment (CLE) look like? How can we measure quality in the CLE?
Developing cultural awareness and sensitivity – cultural awareness, safety and sensitivity, and ways of sustaining and promoting this in your profession.
Challenging conversations – identifying conversations where the stakes are high and building the skills required to navigate these discussions.
Self-care for clinicians – strategies to reduce stress and promote greater wellbeing.

Rural Clinical Placements – How to Grow Your Own
To learn more about the modules and information regarding other ways we can support you and your organisation in hosting a student, please contact us.
Telehealth
With the increased use of telehealth as a health sector service, there is a recognised need for those entering the workforce to be telehealth ready. In recognition of the particular importance of telehealth to rural clinical practice, we have a suite of telehealth initiatives and training.
Evidenced-based practice learning and assessment framework
Have you ever wondered about evidence-based practice (EBP) and how best to help your students develop their skills in this area? Charles Sturt University researchers have produced a fantastic resource for all educators and clinicians to use with their health professions students.
Printable resources and more information is available at placement-ebp.
Request professional development sessions
If you would like to suggest topics for future professional development sessions, or your organisation would like to arrange tailor-made professional development workshops, please contact our team.
Requests for tailor-made professional development workshops should outline the topic(s) of interest, disciplines in attendance, approximate numbers, and presentation mode (online or face-to-face).