Telehealth is the use of telecommunication technology to deliver virtual services enhancing: healthcare, public health and health education delivery and support.
Overview
As part of the Three Rivers program, telehealth was identified as a long term emerging service delivery method that all health professionals including undergraduate students should to be familiar with and have an opportunity to learn about telehealth that aligns with their clinical practice.
The telehealth initiative aims to:
provide telehealth education and training to students and discipline groups
graduate telehealth-enabled students who can deliver appropriate care to our rural communities
support the increased use of telehealth in health service delivery.

Telehealth: Embracing technology in healthcare
Our free online course has been designed as an introduction to telehealth incorporating a range of interactive opportunities for the learners in the course content information, patient scenarios, resources and guides which are based on current practice with a high focus on telehealth service delivery in the Three Rivers footprint. The online modules will also include digital media specific to the local area in telehealth service provision.
The telehealth course covers four modules
Telehealth overview
Telehealth technology
Telehealth in practice
Sustainable telehealth
---
Telehealth equipment
To build on the telehealth education, we are developing simulation and service delivery models across the Charles Sturt University campuses with a multidisciplinary approach.
Videoconference trolleys have been installed at each of the campuses (Albury, Orange, Dubbo, Wagga Wagga, Bathurst and Port Macquarie) and are in use for simulation classes and student-led patient clinics.
The chosen equipment was based on a simple concept of fit for purpose, functional within differing clinical spaces, easy integration with Charles Sturt University systems and reflective of the equipment in place at placement providers.
Charles Sturt staff can contact the Service Coordinator for more information and booking enquiries.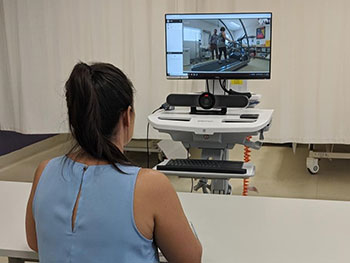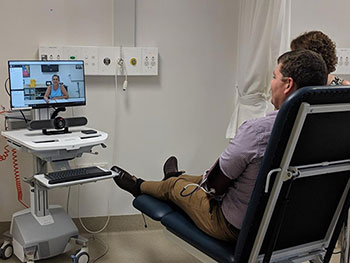 Three Rivers has provided intraoral cameras for dentistry and oral health students in their practice at Charles Sturt University clinics. These cameras allow students to educate their patients with a real-time view, along with storing the images in the patient electronic file.
Telehealth clinic facilities
Three Rivers provided a redesign to the facilities on the Albury Campus in the Community Engagement and Wellness Centre, which includes videoconference equipment into three clinic rooms with digital observation for supervision. The expansion of outreach services incorporating the use of telehealth will provide students with more direct patient interaction.