Safe driving on country roads
Safe driving on your rural health placement
Country driving provides an opportunity for some beautiful scenery across our spectacular country, but unfortunately, it also comes with some potential hazards and risks you may not be aware of if you are unfamiliar with rural and regional areas. Please take some time to read our safe driving tips to keep you safe during your clinical placement.
Preparing for your trip
Driving in rural and remote areas requires an awareness of potential changes in road conditions, hazards and may require special driving skills. Prepare for your trip by ensuring your vehicle is in good condition and that it has been recently serviced. Check your spare tyre is in good condition, that you have and necessary tools and always carry plenty of water, food and fuel, particularly if you are travelling to remote areas off major highways. It's a good idea to inform family or friends of your intended route and expected arrival time (ETA).[i]
Consider the route you will be taking, distance and travel time. Will some of the journey be made on single-lane roads or dual-carriageways? Will there be unsealed, gravel or dirt roads on your trip? If so, you may have to prepare your vehicle and adjust the way you drive. [ii]
Animals on country roads
With vast areas of NSW regularly affected by drought, increased numbers of wildlife and livestock on the roads create an added risk when driving. Animals can be more unpredictable than usual and present a serious road safety danger. One in every 41 casualty crashes on country roads involves a vehicle hitting an animal.
Slowing down and being extra vigilant, especially near sunrise and sunset, could save you from a collision or even save your life.[iii]
NSW Government, Centre for Road Safety (2019) suggest the following –
Be aware – animals are more active near waterholes and creeks, and harder to see at sunrise and sunset
Reduce your speed – slow down when you see animal warning signs
Stay alert – animals are unpredictable, so expect the unexpected
Brake safely – always apply your brakes in a controlled manner
Never swerve – it is safer to hit an animal than swerve and lose control of your vehicle
Report injured wildlife – call WIRES on 1300 094 737
Plan your travel time well
Fatigue accounts for about 20% of road deaths in NSW. Driver fatigue is particularly dangerous because it affects everyone, no matter how experienced a driver you are. Fatigue is a term used to describe the feeling of being 'sleepy', 'tired' or 'exhausted'. Listen to your body, it is telling you that you should stop and rest or sleep. The best way to avoid driver fatigue is to have plenty of sleep before you start your trip and the only way to treat driver fatigue once you have already started driving is to stop and rest until you are refreshed.[i]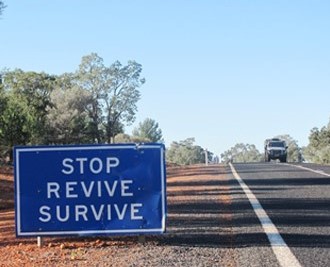 Driver fatigue
As you drive, watch for early warning signs of driver fatigue: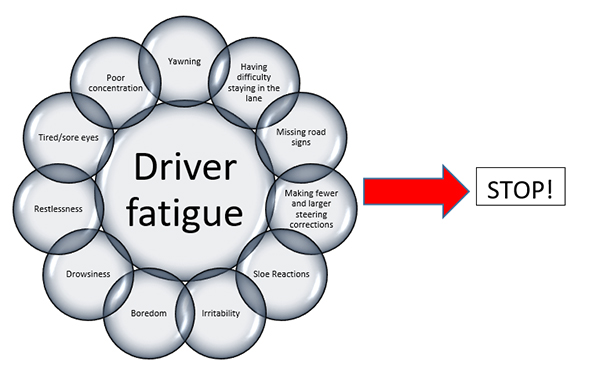 Understand the road rules and drive to the conditions
Preparing yourself by adopting safe driving techniques can reduce the risk of accidents occurring. Be aware of obstacles on the road and changes to road conditions. It may be useful to review the road conditions for your trip by conducting an internet search before you leave or keeping local radio on during your trip. There may be obstacles or construction works on routes you are planning to take which may cause delay. Always pay attention to road signs and be ready for potential hazards.
Driving conditions can vary and change quickly, so it is important to slow down when road, weather and light conditions are poor. Consider light, fog, ice, flooding, mud, gravel, wildlife, oil, sand, crest and curves in the road and adjust to these conditions.
Understand the road rules and drive to the conditions
Eco Driving is a driving style aimed at helping the environment by reducing fuel consumption and greenhouse gas emissions. Eco Driving can also save you money. Research has also shown that Eco Driving can help to reduce crash involvement by up to 40%.
Eco Driving Tips
Only fill your petrol tank to the first click. This allows for expansion of the fuel and reduce emissions.
Only use air conditioning when absolutely necessary. Air conditioning is most efficient when you are travelling above 60km/h.
Check the tyre pressure frequently. Under inflated tyres increase rolling resistance and fuel consumption.
Turn the engine off when you are stopped for lengthy periods.
Avoid carrying unnecessary weight in the vehicle. Remove objects such as roof racks and bike racks when not in use and don't leave heavy items permanently in your vehicle.
Don't speed and maintain a steady speed. Higher speeds increase fuel consumption.
Don't warm up the engine before starting off. Today's vehicles do not require warming up, except in cold climates and after long periods of non-use.
Maintain your vehicle. Ensure your vehicle is regularly serviced and has the correct amount of engine oil and coolant.
When driving a manual car, change gears at a lower engine speed (revs) to avoid labouring the engine.
When driving an automatic car use the correct pressure on accelerator to avoid over-revving on take-off. [i]
---
Source
[i] Source https://www.pinterest.com.au/pin/630715122794046365/
[ii] Australian tourism, 2019, Road safety in Australia, https://www.australia.com/en/facts-and-planning/useful-tips/road-safety-in-australia.html
[iii] NSW Government. (2019) Centre For Road Safety. Retrieved from https://roadsafety.transport.nsw.gov.au/stayingsafe/drivers/animalsoncountryroads/index.html
[iv] Alliance Australia, 2019, Driving on country roads, https://www.allianz.com.au/car-insurance/news/driving-on-country-roads
[v] Source https://roadsafety.transport.nsw.gov.au/stayingsafe/fatigue/tipstoavoiddrivingtired.html
[vi] NSW Government Road Users' Handbook, 2019, https://www.rms.nsw.gov.au/documents/roads/licence/road_users_handbook-english.pdf, p.49
[vii] NSW Government Road Users' Handbook, 2019, https://www.rms.nsw.gov.au/documents/roads/licence/road_users_handbook-english.pdf, p.71